Unparalled end-to-end eCommerce for your winery.
From a streamlined checkout experience to deep customer insights and compliant shipping practices, Corksy empowers you to blend the art of winemaking with the precision of modern eCommerce.
Elevate every touchpoint of your winery's online journey.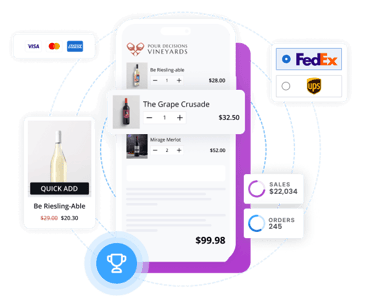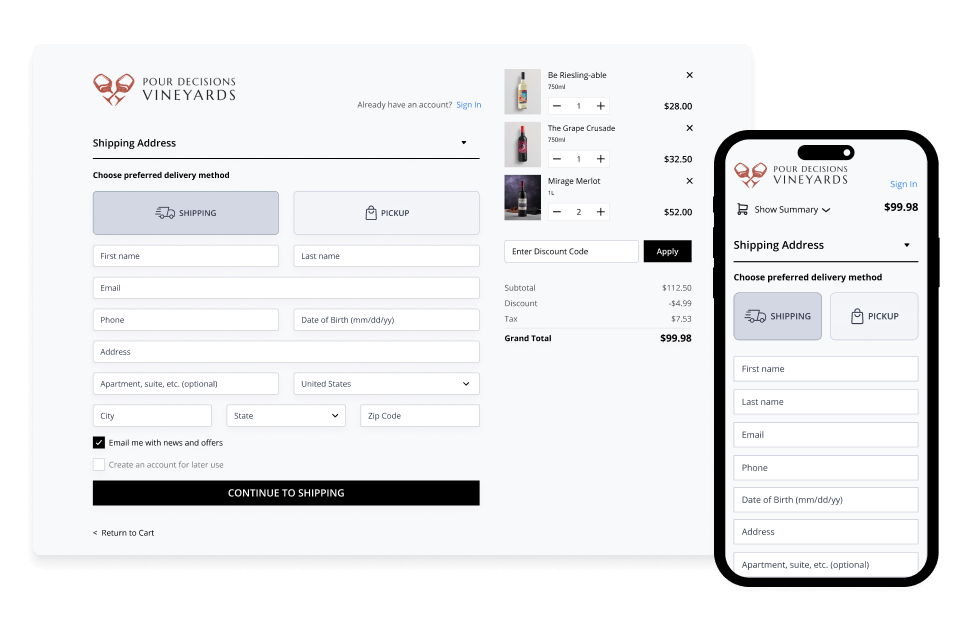 DTC Wine Sales
Modern eCommerce.
Best-in-class checkout experience.
The end-to-end eCommerce solution to help wineries sell more wine. Corksy's scalable and flexible eCommerce platform makes it easier than ever to sell wine online, while enhancing the customer experience from start to finish.
Automate your marketing and maximize your sales with our dynamic segmenting and email platform integrations.
Secure online shopping experience on any device, anytime, and anywhere.
Industry's best checkout process helps increase cart conversions and sell more wine.
Automated emails help provide exceptional customer service, while saving time.
CRM for Wineries
Premier winery CRM.
For superior service.
Transform visitors into loyal customers with our premier winery CRM. Centralize customer data by integrating eCommerce, POS, wine club, and marketing.
Understand customer preferences and habits, and use dynamic tagging for precise segmentation. Customize marketing with tailored insights and create detailed customer profiles for superior service and relationship management.
Understand customer habits and preferences for targeted offerings.

Use dynamic tagging for manual/auto customer segmentation.

Customize promos: activate, set requirements, dates, and types.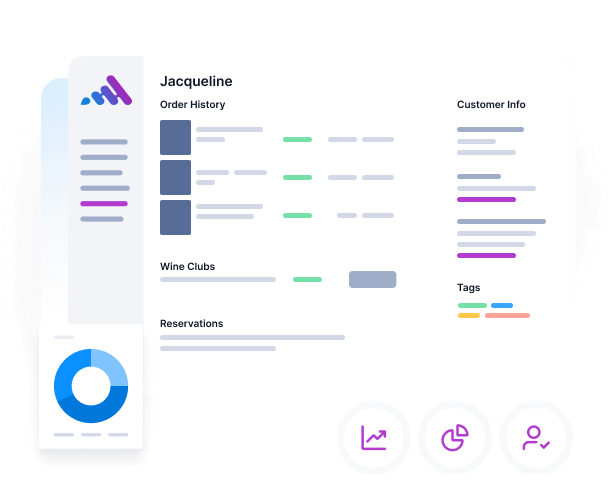 The precision of modern eCommerce.
Increase winery sales, work more efficiently & uncork your growth potential with Corksy end-to-end eCommerce.
Inventory & Product Management

Easily add and categorize products on your site or tasting room.
Get real-time inventory insights for better service and strategy.
Transfer inventory between locations on any device.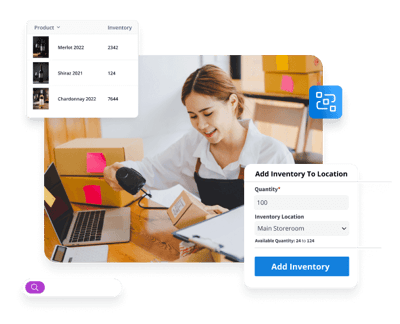 Promotional Items & Discounts

Set up offers for products, events, and experiences.
Keep track of all past, current and future promotions in one spot.
Customize promos: activate, set requirements, dates, and types.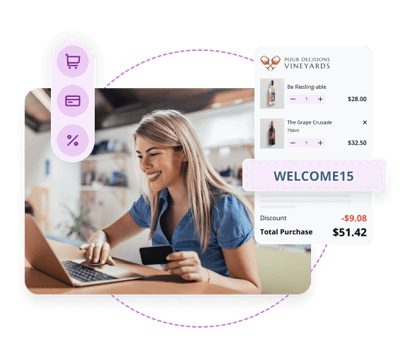 Analytics & Reporting Insights

Craft custom dashboards and analytics for effortless reporting.
Make informed decisions using real-time online & offline insights.
Live dashboard aggregates website traffic, eCommerce, club, and marketing insights.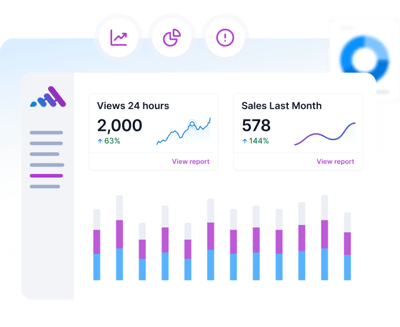 DTC Wine Compliance

Integrate ShipCompliant & Avalara for real-time compliance and tax checks.
Centralize state licenses management.
Full integrations with all major carriers: FedEx, UPS, & more.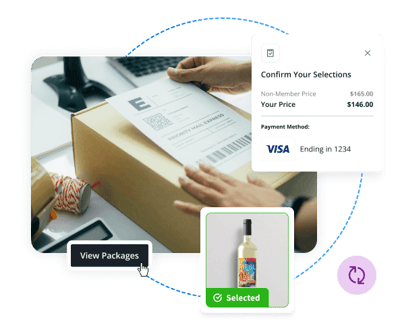 Sell More Wine
Built to drive more revenue across eCommerce, wine club, point-of-sale, reservations, marketing automation, loyalty, and more.
Modern Platform
Corksy was developed in 2022 with the largest development team in the industry, that meets your needs before you need it.
Guaranteed Uptime
Your website won't crash during peak shopping and your point-of-sale will exceed your tasting room expectations.
24/7 Ticket Inquiries
No need to crawl through Facebook posts to find your solution. Our customer-centric foundation is what sets us apart.
Wineries trust Corksy with their business.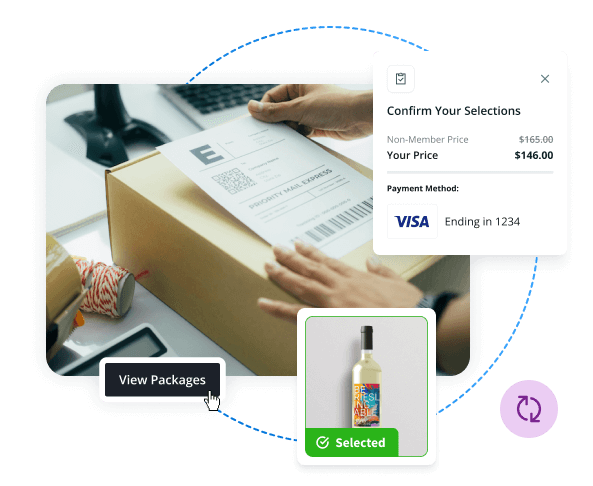 Wine Club Software
Build, open & process
your wine club in
5 minutes or less.
Enables efficient club management, saving valuable time in processing club-related tasks, facilitating customization of offerings, allowing seamless sign-up of club members at point-of-sale, and ensuring the prevention of discount stacking or the processing of club members' cards following cancellation.
Convenient bulk processing allows wineries to efficiently manage and process large batches of orders for their wine club members in a single step. Filter by club or state for enhanced fulfillment, saving you hundreds of hours on wine club processing, guaranteed.
The results speak for themselves.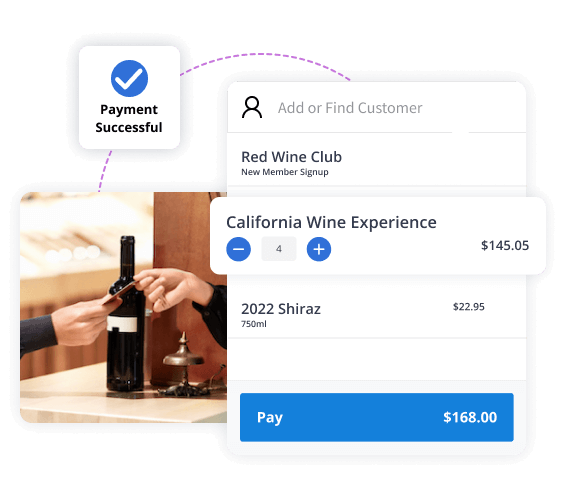 Tailor-Made for Wineries
Combining cutting-edge technology with intuitive simplicity. Manage wine club memberships, allocate customer rewards, enhance customer loyalty, and organize special events effortlessly.
Boost Winery Profitability
Effortlessly process transactions, track inventory, and manage customer information in one centralized platform. Experience the convenience of a user-friendly interface, while maximizing sales potential.
Real-Time Data Analytics
Harness the power of real-time data analytics to gain invaluable insights into your business performance. Analyze sales trends, identify customer preferences, and make data-driven decisions to boost profitability.
Wineries trust Corksy with their business:
"Corksy is an amazing partner to help build my website and my business through their easy to use and robust marketing tools. As a winemaker I was able to seamlessly use Corksy's design features to create my website exactly to how I wanted along with already having important built in tools such as email collection at checkout, integration with Mailchimp, wine club, and inventory management."
Katrina Laemmerhirt
Social Creatures Wine | Head Winemaker & Founder
"The best decision I have made was to partner with Corksy to create a semi-custom website. The platform is brilliant. It's user-friendly and has so many customizations and features I'd wished for with other website platforms. The Corksy team of experts made me feel confident every step of the way and beyond excited that we were building something that would take my business to the next level."
Laura Chester
Details Wine Bar | Founder
"Corksy provides me with robust marketing and automation tools, allows me to increase business traffic, streamline my wine club operations, and better inventory management. As a small, independent winemaker who is always on the go, having Corksy as a lean, fast, customizable platform allows me to take care of business wherever I go. Corksy has everything I need to help my business succeed in the e-commerce world and get my wine out to customers across the country."
Jason Mergenov
Rockets Red Wines | Owner & Winemaker
Winery Website Builder
Free templates.

Winery eCommerce reimagined.
A cutting-edge website builder, meticulously designed for effortless usability, empowering you to create stunning product listings with the ability to showcase multiple captivating photos or videos.
Enjoy a seamless checkout experience designed to boost wine sales across devices. Our platform combines robust customization options with effortless management, all backed by our reliable hosting and support services.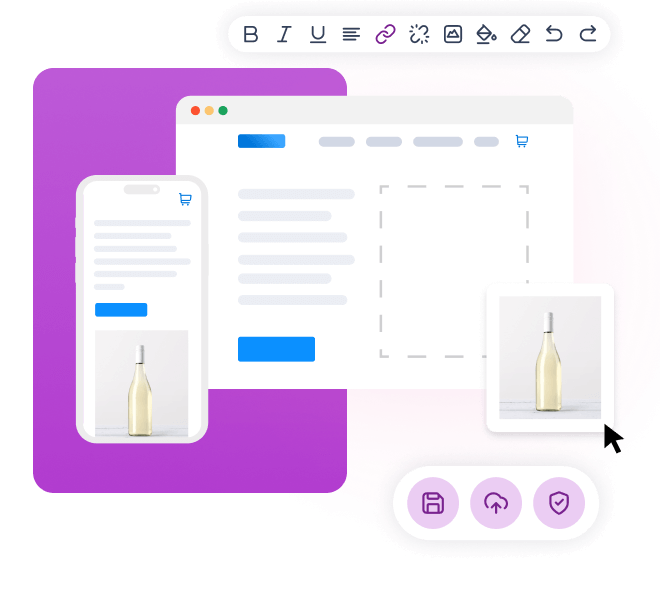 Integrated & compatible systems. For free.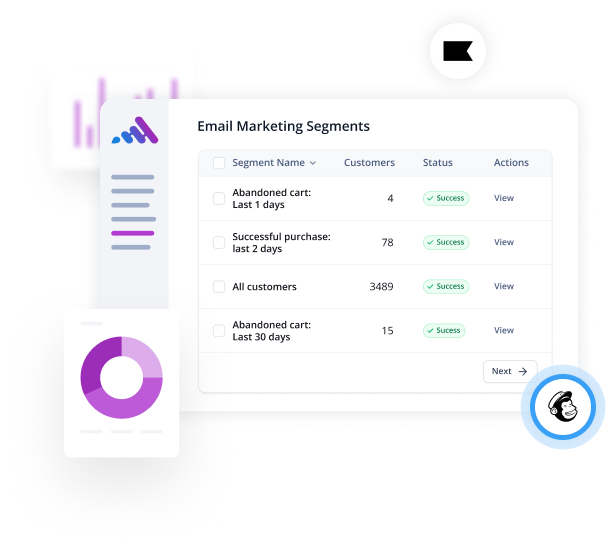 DTC Wine Marketing Automation
Effortless audience segmentation.

Simplified.
Seamlessly integrate Klaviyo & Mailchimp to engage with your customers at the right time with dynamic segmentation of your customers sales data. Email marketing has never been easier with our library of optimized email templates to help you get started.
Easily export your customer segments for further use across your digital media mix. Built by growth marketing experts for wineries.
Winery Growth is in our DNA
You know wine. Leave the tech to us.